Virginia Sperry
February 6, 2013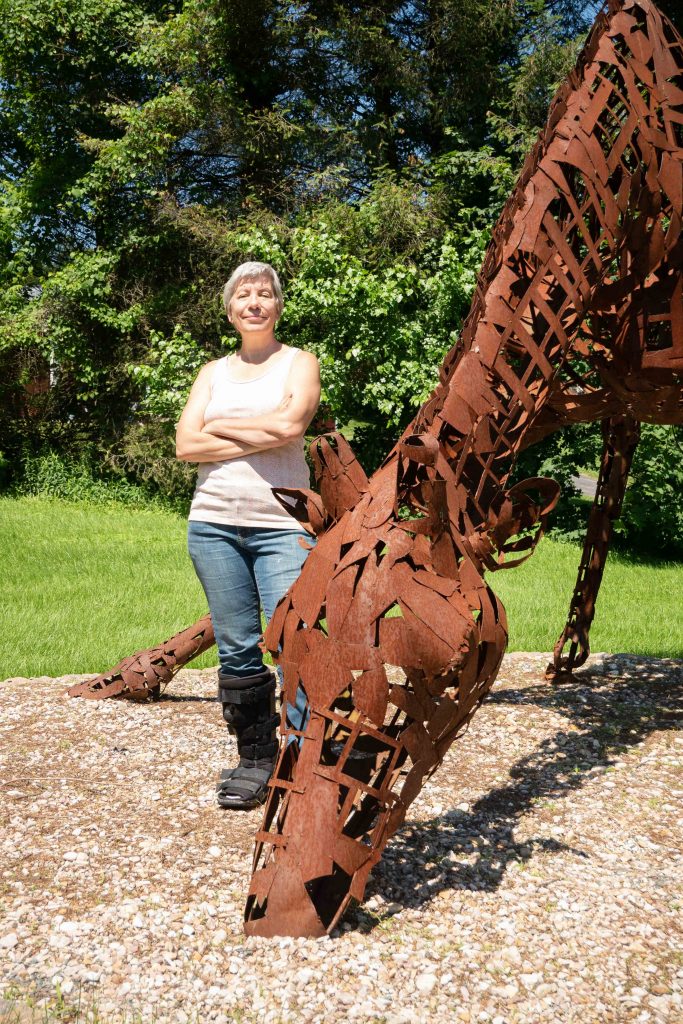 ARTIST'S STATEMENT
I am fascinated by contrast and juxtaposition, and I love to explore and manipulate disparate elements. I challenge materials to become what they are not: steel becomes fluid and graceful, rust becomes beautiful, and fragile paper becomes a story of a growing  racial awareness. 
Throughout my artistic career I have jumped from two dimensions to three dimensions and back again. From the physical movements of dance to the textures of watercolor; from the forms of polymer clay, steel and fiber, to the new other-worldly photographs, I create physical and sensorial experiences for the viewer.
My installations are site specific. I am not a fan of pedestals, instead I like to settle my creations into the space. The viewer then becomes a part of the story and not just a passive observer. I hope that this experience leads the viewer to connect to deeper parts of themselves and their own lives.
I began doing "pop-up" installations in order to bring my sculptures out into public spaces and engage people in a dialogue about art and how I work with different materials. I can see what my sculptures look like in situ, without the visual distractions in my studio. It also gives me time to connect with people and expand my artistic vocabulary. My goal is to show people that art is not separate from life, it IS life.
---
---
ARTIST'S BIO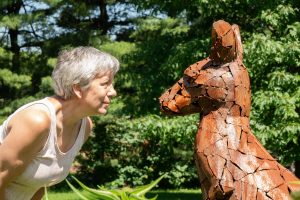 Virginia Sperry grew up in a house full of art, music, dance and theater. A bachelor's degree in theater, a year dancing at the Martha Graham School in NYC and a master's degree in dance therapy preceded Virginia's visual arts career. Her first foray into the sculpture started with polymer clay in 1990. Taking advantage of the malleability of the medium, she taught herself to weave colorful baskets and make miniature life-like animal sculptures and furniture. Virginia exhibited these works in multiple craft shows, including the ACC show in Baltimore, from 1990 to 2003. During this time she owned and operated Winter Moon Designs, a contemporary craft and art gallery located in Ellicott City, MD.
In 2003 Virginia learned to weld in a metal fabrication class at the Maryland Institute College of Art (MICA). Initially assuming that steel is strong and difficult to manipulate, she soon found that she could create fluid sculptures using this material. Trained in observing the movement of living creatures and feeling a deep connection with the animal world, Virginia created amazingly life-like bears, giraffes and other beasts. From 2005 to 2014 these animals were installed in several cities around the country, including Sioux Falls, SD, Eau Claire, WI, and Castlegar, BC. Currently, Virginia is working on a commission for the Carroll County (MD) Arts Council. Her Great Blue Heron was installed at Piney Run Park in Eldersburg, MD in March of 2018.
From 2015 to 2020, Virginia experimented with using rust as a medium and making woven forms from rusty metal and fibers. She also spends time with her camera, taking abstract photographs of steel, rust and paint. Virginia's sculptures and photographs from this time speak to themes of aging and impermanence both in her own life and in the world around her.
Currently, Virginia is working on a new series born of a visceral response to racism in this country. She creates paper collages and mixed media sculpture as she re-educates herself on the brutal history of racial inequality in America.
Virginia lives and works on a six-acre farm outside of Baltimore, MD with her husband and two grumpy old cats. Many of her larger sculptures are scattered around her property, which is open to the community for public viewing twice a year. When not getting messy in the studio, Virginia can be found gardening, hiking, reading or traveling around the world in search of new experiences.
---
---
CURRICULUM VITAE:
Solo/Duo Exhibitions:
2022 Un/Familiar Territory, Tatem Gallery, Hood College, Frederick, MD
2022  Missing Pieces, Noma Gallery, Frederick, MD
2020  Storytelling, Frederick County (MD) Library, Brunswick branch
2020  Occupied Space, NOMA Gallery, Frederick, MD
2019  Impermanence, Delaplaine Art Center, Frederick, MD
2019   Edge/Flow, temporary art installation, Howard County (MD) Library, Glenwood branch
2018   Temporary Installation of Paper Rocks, Carroll County (MD) Library, Eldersburg branch
2017   Temporary installation of Paper Rocks, Horowitz Center, Howard County Community College, Columbia, MD
2010   Guest Artist, Off Track Art, Westminster, Maryland
Commissions:
2018   "Great Blue Heron" Commissioned by the Carroll County Arts Council. Placed in Piney Run Park, Eldersburg, MD
2009   "Tundra" Roam Around: Art in Public Places, Stamford, Connecticut
Juried Shows:
2019  Second Tri-Annual Maryland State Artist Registry Juried Exhibition, Maryland Art Place, Baltimore, MD
2016   Cartes Blanches, Delaplaine Art Center, Frederick, MD
2016   National Juried Show, Delaplaine Art Center, Frederick, MD
2015   Reach, Carroll County Arts Center, Westminster, Maryland
2012   Unleashed, Strathmore Mansion, Bethesda, MD
2010   Rejected to Perfected, Carroll County Arts Center, Westminster, Maryland
Selected Group Exhibitions:
2021  Bug Invitational, Delaplaine Art Center, Frederick, MD
2019   Artists' Invitational, NOMA Gallery, Frederick, MD
2019   Elements, Carroll Arts Center, Westminster, MD
2017   Rust Redux, Buickster Hall, Taneytown, MD
2017   All In The Family, Noble Horizons Gallery, Salisbury, Connecticut
2016   Cartes Blanches, Delaplaine Art Center, Frederick, Maryland
2016   National Juried Show, Delaplaine Art Center, Frederick, Maryland
2016   Washington Sculptors' Group Show, Delaplaine Art Center, Frederick, Maryland
2015   Bio Art Residency, School of Visual Arts, New York, NY
2015   Reach, Carroll County Arts Center, Westminster, Maryland
2014   Sculpture Walk, Castlegar, British Columbia
2013   City Art, Walking Sculpture Tour, Mankato, Minnesota
2012   University of Sioux Falls SculptureWalk, Sioux Falls, South Dakota
2011   Sculpture Tour, Eau Claire, Wisconsin
2010   SculptureWalk, Sioux Falls, South Dakota
2007   Sculpture installation, Quiet Waters Park, Annapolis, Maryland
2007   SculptureWalk, Sioux Falls, South Dakota
2006   Sculpture installation, Unison Sculpture Garden, New Paltz, New York
2005   Strictly Sculpture, Carroll County Arts Council, Westminster, Maryland
2004   Alumni Show, Tang Museum, Skidmore College, Saratoga Springs, New York
Residencies:
2018.  The Photography Master Retreat, Esparon, France
2015   Bio Art Residency, School of Visual Arts, New York, NY
Awards:
2013   Best in Show; Other Media for "Tundra", City Art, Walking Sculpture Tour, Mankato, Minnesota
2010   Director's Choice Award for "Tundra" SculptureWalk, Sioux Falls, South Dakota
2010   Best in Show for "Water Pump" Rejected to Perfected, Carroll County Arts Center, Westminster, Maryland
Public Collections:
2018   "Great Blue Heron", Commissioned by the Carroll County Arts Council. Placed in Piney Run Park, Eldersburg, MD
2010   "Lioness with Cub" owned by the Sioux Falls Lions' Club, on permanent display in the city of Sioux Falls, South Dakota
Publications:
2004   "400 Polymer Clay Designs", Lark Books, New York
1997   "Foundations in Polymer Clay Design" Krause Publications, Wisconsin
Education:
1992   MA in Dance/Movement Therapy, Goucher College, Baltimore, Maryland
1984   BS in Theater Arts, Skidmore College, Saratoga Springs, New York
---
---